Before the fall of 1954, it was difficult to listen to the radio in private. Radio units were big, bulky things, housed in wooden consoles placed in the living room much like today's TVs. Maybe it was a clunky box sitting on the kitchen counter. They were either tethered to the wall by a power cord or powered by big dry cell batteries and reliant on hot, dusty, fragile vacuum tubes. In other words, they were hardly what you'd called portable.
That all changed on October 18, 1954, when Texas Instruments and an Indianapolis company called International Development Engineering Associates (IDEA) released their new technical collaboration: the Regency TR-1 transistor radio, US patent number 2892931.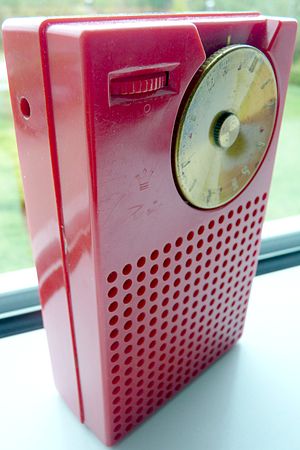 Transistor technology was still very young–Bell Labs had announced their invention in 1947–and the only other transistor-based consumer item on the market was a hearing aid. TI and IDEA had an established business supplying electronics to the US Navy, but wanted to expand their offerings into the consumer market. They tried to interest RCA, Emerson and other established radio manufacturers with their prototype, but there were no takers. So they launched the radio themselves.
TI and IDEA were very bullish on the technology, saying that there was a market for 20 million a year within three years. But the TR-1 had a price of $49.95, which, for the time, was insanely expensive. Translated into today's dollars, that's about $622. The high price and dodgy performance kept sales to around 150,000.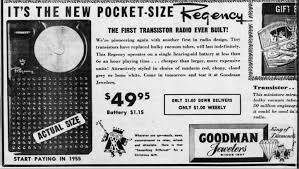 The TR-1 may have been a commercial failure, but as a proof of concept, it was a huge success. A Japanese company previously known for making rice cookers called Sony picked up the ball a few years later, selling units for around $20. Sales exploded.
Millions of radios were picked up by this new demographic construct called a "teenager." For the first time, young people were able to listen to music away from the prying ears of parents. Just in time, too, because the introduction of the transistor radio coincided with the rise of rock'n'roll, a form of music that did not meet with parents' approval. Kids could listen to this new music anytime, anywhere. The transistor radio was thus the delivery mechanism for all the messages and attitudes of rock'n'roll and R'n'B, thereby helping to spread social, political, economic, cultural and sexual revolutions.
If you can find an original TR-1, hang onto it. Collectors are crazy for them.